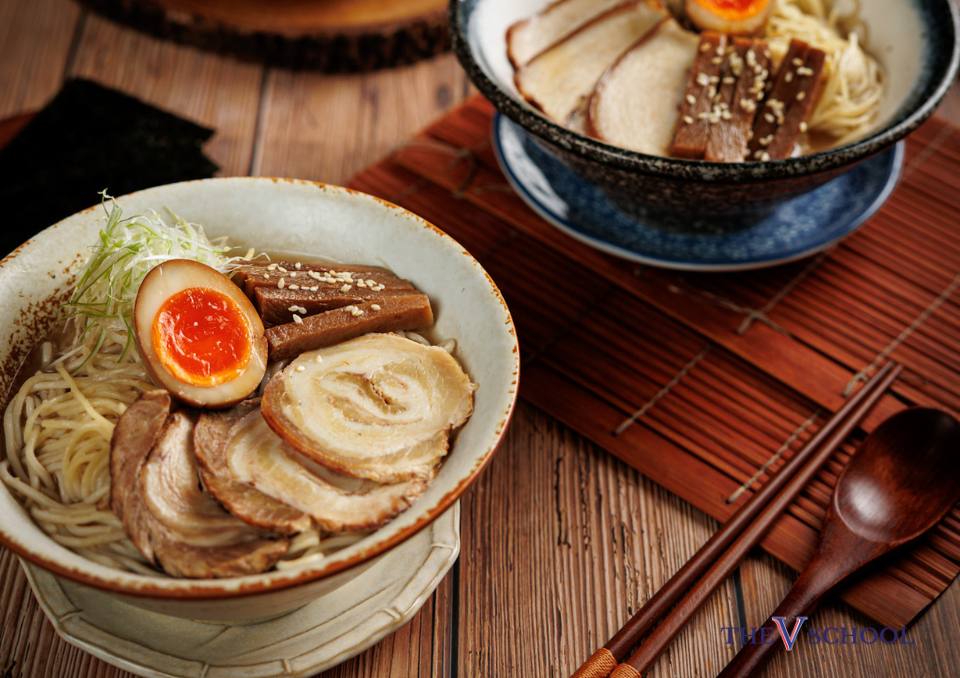 Ramen is a food that has only a small but refined history in Japan.
To the point that many people think that ramen is authentic Japanese food. Specialty restaurants such as ramen
Various rice dishes Curry rice, etc. are becoming popular. Because it's suitable for SME businesses and management is not as complicated as opening a full-fledged Japanese restaurant.
The V School Culinary Arts Institute Therefore, we opened a professional ramen making course to meet the needs of entrepreneurs who want to open a ramen shop or Chefs who want to learn more to develop the skills of Thai people.
It is a course that lays the foundations. and provide recipes and tips from professional chefs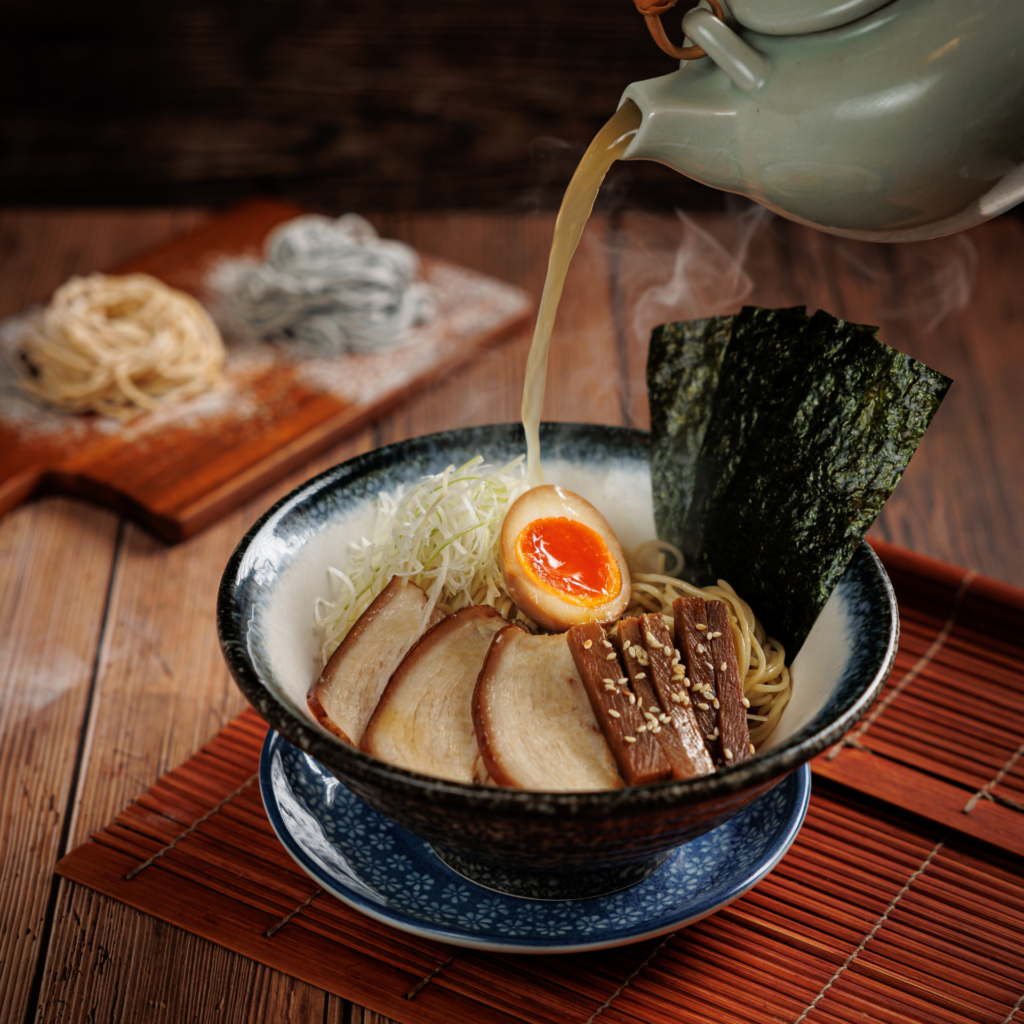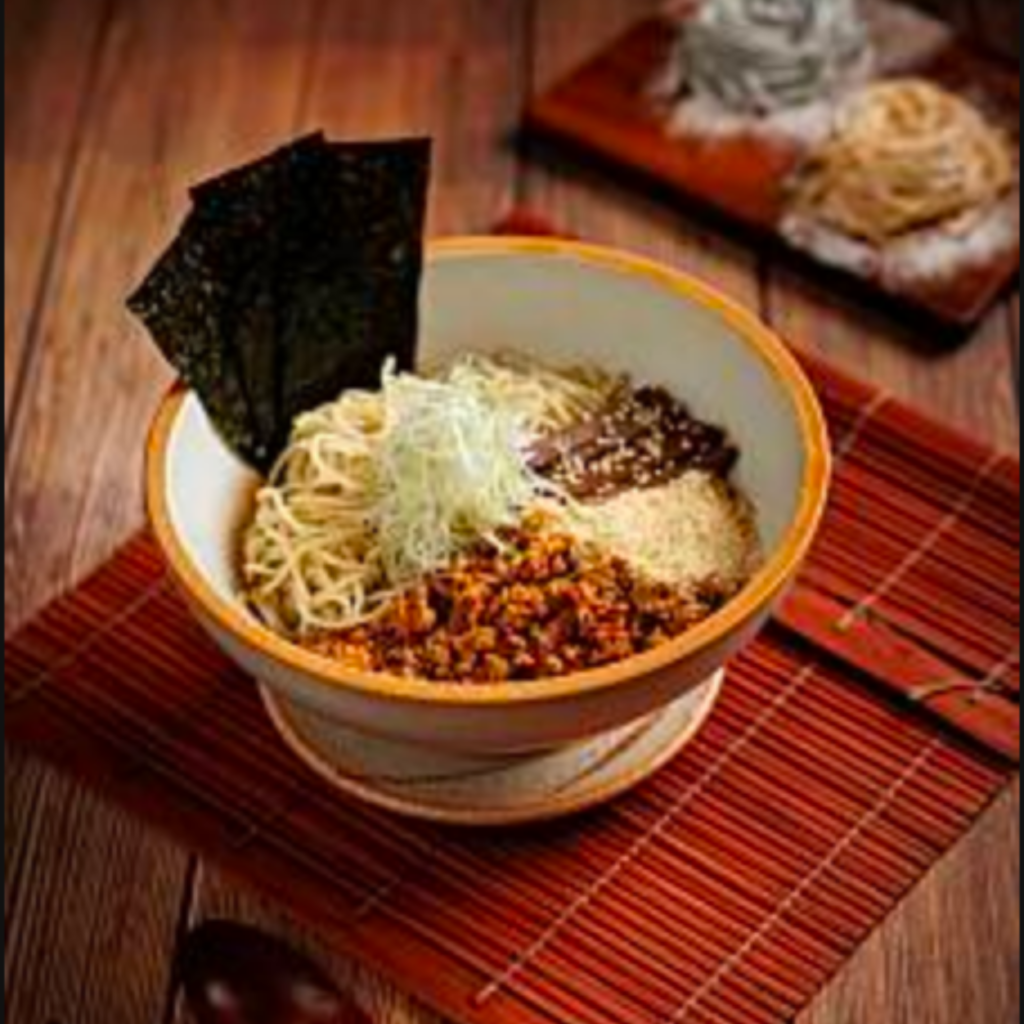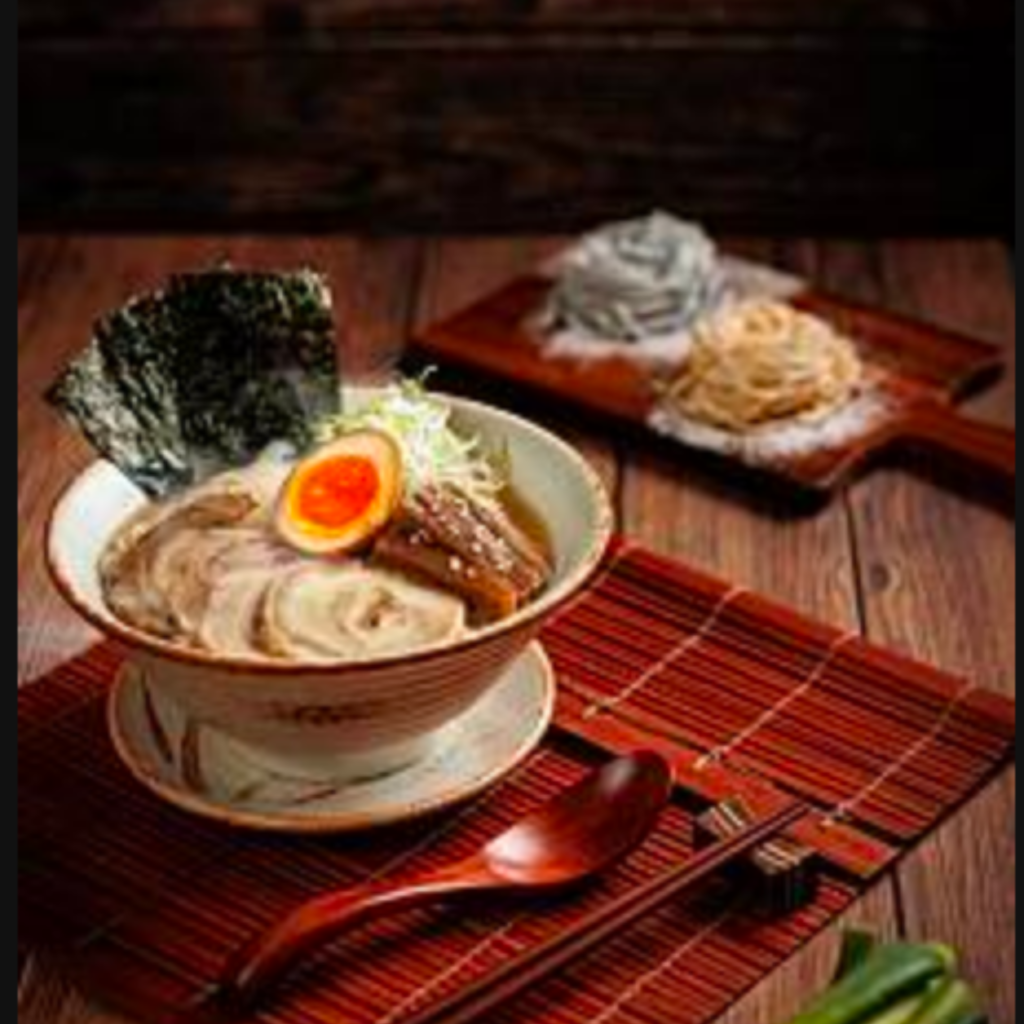 Objective
Students can know and select ingredients for making ramen.
Learners learn how to prepare 4 basic types of soup: thick soup, soy sauce soup, miso soup, and salt soup, and the ingredients for ramen in both hot and cold menus.
Learners can learn basic formulas. So that they can continue to improve their own unique formulas in the future.
The learners get hands-on experience. and can actually apply the knowledge and formulas gained in the restaurant business
Course Details
Participants will learn the formula. and study practical subjects as follows
Making thick soup (tonkotsu), actually boiling the soup for a minimum of 8 hours – Making pork, chashu pork buns
Preparing chashu pork, both fried and non-fried.
Techniques for boiling eggs and pickling eggs (Ajitama)
Making Pork Boiled in Soy Sauce Buta Kakuni (Japanese style stewed pork)
Making bamboo shoots (menma)
Making soy sauce leavening agent
Making miso leavening agent (Miso seasoning to create a unique flavor)
Making vegetable soup and salt soup
introduction Important ingredients and side dishes for serving in ramen shops
*** Recommended places to buy raw materials such as fresh ramen noodles, etc.
*** Didn't teach you how to make lines. But I will recommend a place to buy fresh ramen noodles. that can be made according to the needs of each store
Teach techniques for making pork chashu and buta kakuni.
The recipe for seasonings for boiling chashu pork and buta kakuni is a secret recipe that each chef treasures.
It's not easy to get the formula, but The V School teaches it without hiding it.
for the participants to fight Can actually use it in your next career and be able to develop your own unique formula in the future.
Teach steps and techniques for boiling soup in all 4 recipes.
heart of ramen in the soup If the soup is delicious and mellow To make each bowl of ramen delicious from the first bite to the last, The V School has to teach techniques. Combining many types of ingredients to make soup. By extracting the flavor from real ingredients, no MSG is used. But it must come out of boiling and simmering the soup for at least 8 hours.
Teach techniques for arranging various ramen toppings as follows:
1) Hiyashi-Chuka ramen
2) Tonkotsu Ramen
3) Shoyu Ramen
4) Miso Ramen
5) Shio Ramen
6) Buta Kakuni ramen
7) Tan Tan Ramen
8) Wantan Ramen
9) Zaru Ramen
Course Duration
12-hour course, 2 full days from 9:00 a.m. – 4:00 p.m. (with lunch break)
Registration Fee
From normal 19,000 baht, promotion = net 17,000 baht
This price includes…
Cost of raw materials and equipment
Study books
Certificate (issued by The V School)
Mobile Application for reviewing studies in the form of images and videos.
Apron and hat worth 250 baht (only for new students)
Condition
The minimum to open a course is 3 students or more, with a maximum of not more than 10 people per course. In the case that the number of students does not reach The institute will call to inform you at least 3-5 days before the course postponement. and will be postponed to the next round
In case you want to cancel The institute reserves the right. No refunds under any circumstances. But customers can change to other courses, both live courses at the institute and online courses. at the same value If the value is greater, pay the remaining difference.
In the case that the value of the purchased course is less than 10,000 baht, there will be an additional apron and hat cost of 250 baht per set. But if the course purchased is higher than 10,000 baht, there will be 1 set of apron and hat free (only for new students). Students must bring Aprons and apron hats must be brought with you at all times until graduation.
Note: In the case that the customer wishes to postpone the class date. Please notify the school at least 3 days in advance. If it is later than that, there will be a fine of 2,000 baht / person (except for the Lobster and Salmon courses, notify 1 week in advance or a fine of 4,000 baht / person) or if Didn't come to report. As reserved, the school reserves the right to return the deposit.
If the registered course is postponed suddenly more than 3 times without notifying the school in advance. We reserve the right to not allow students to attend classes and reserve the right not to issue a certificate to that registrant.