Because at present Japanese food is widespread and very popular among consumers in Thailand and around the world.
Japanese food mainly consists of fish and various seafood.
Therefore, the science of fish filleting or sashimi Therefore, it is extremely important for chefs and restaurants. To be able to eat sashimi hygienically,
Selection and storage of fish, cutting, slicing, and filleting in the correct way to maintain freshness. and the art of plating
This is to raise the skill level of Thai workers. and respond to the needs of consumers as well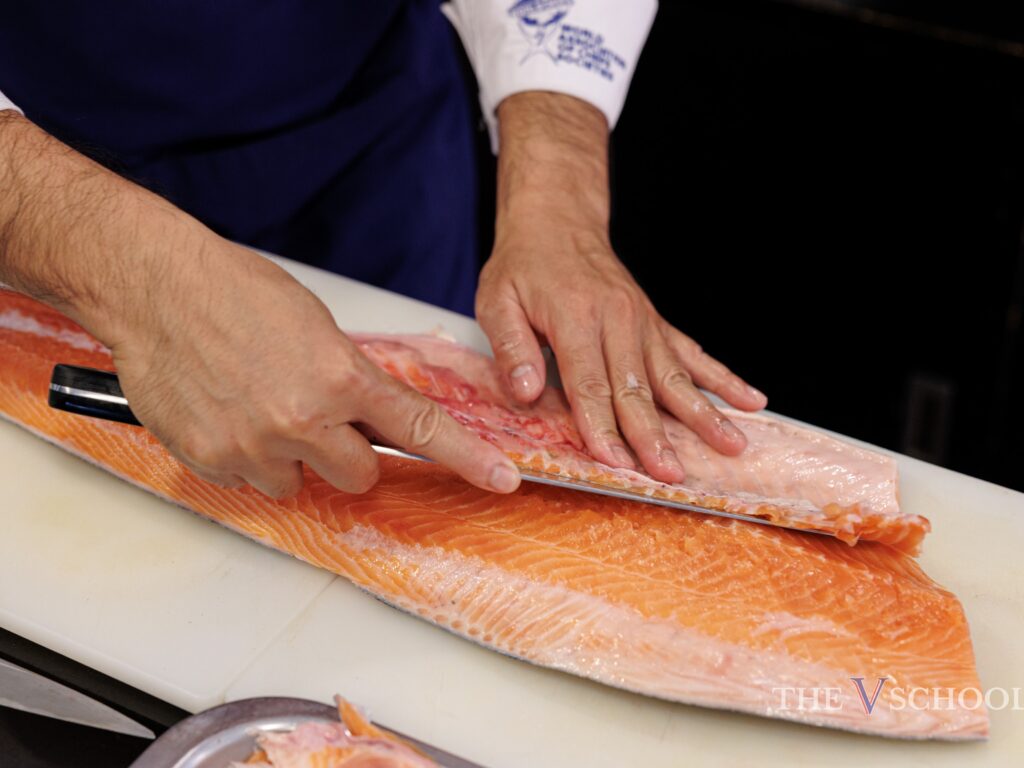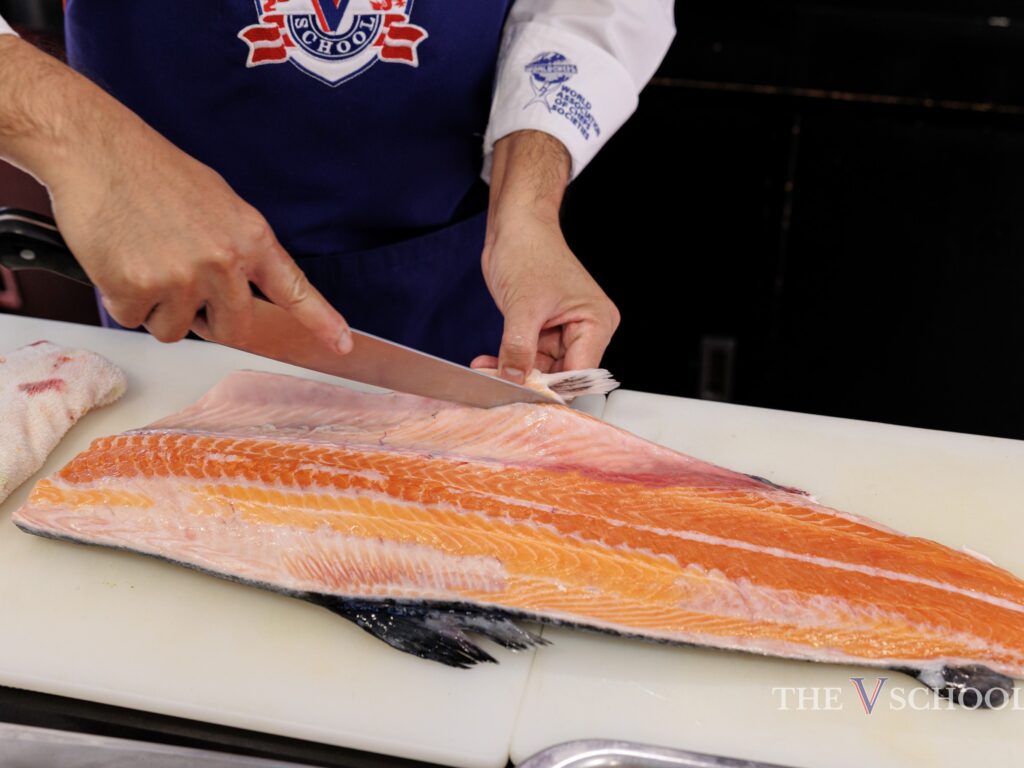 Salmon is a popular fish in Japanese cuisine. Popularly used in cooking, both eaten raw or cooked in a variety of dishes.
Which in addition to giving the right taste, is also rich in nutrients that are beneficial to the body.
In this course, salmon has been selected to be imported from Norway, which is one of the important salmon breeding and export areas.
Students will learn to take care of kitchen equipment. Selection of quality salmon Making a salmon menu begins with the process of carving the salmon.
To be used to make sushi, sashimi, as well as every part of the salmon that is cut into many other dishes.
including boiled, fried and pickled dishes to create new, authentic Japanese-style flavors.
Objective
Learners know and can select salmon.
Those who learn how and can preserve fish.
Learners understand and are able to keep and care for knives.
Learners can fish and fillet the specified types of fish.
Course detail
Fish filleting course: Use fresh whole salmon imported by Air freight (not frozen salmon), sashimi grade.
The participants will receive a whole salmon, size 5-6 kg/each, and will make a meal made from the whole salmon to take home with them.
1) Salmon management Types of salmon, fish selection, fish cleaning Fish scaling, fish growing
Fish filleting, fish bone removal fishbone pulling peeling fish skin Cutting fish into different pieces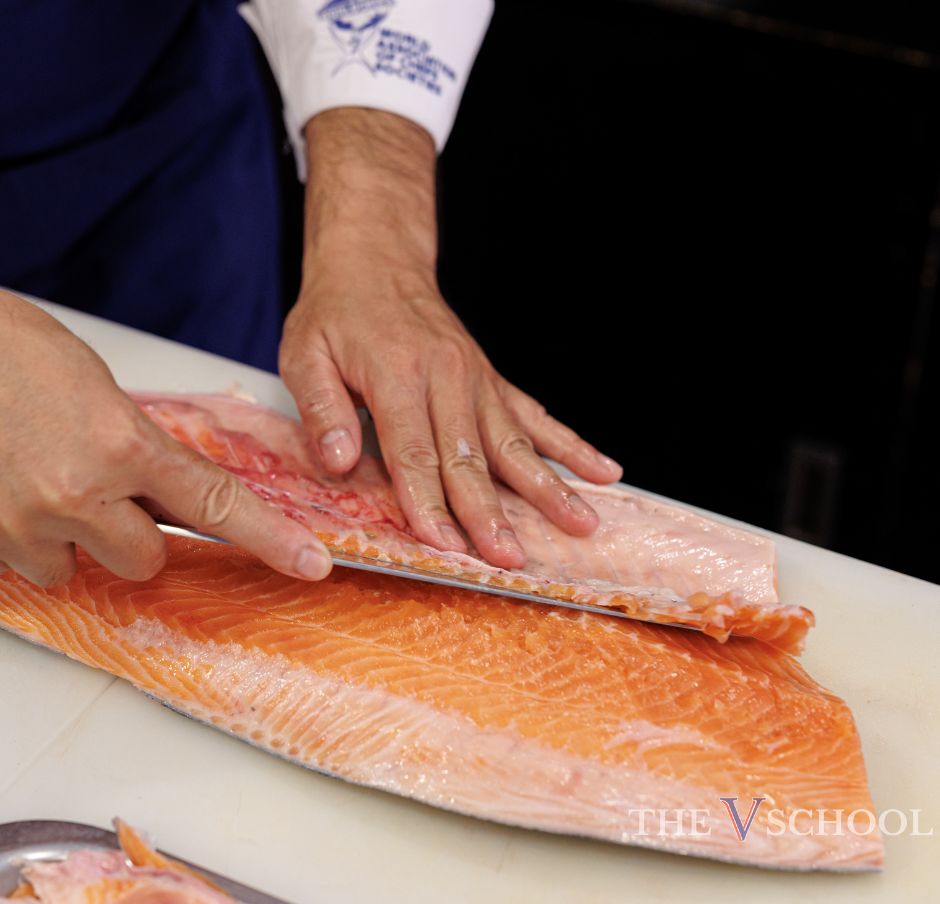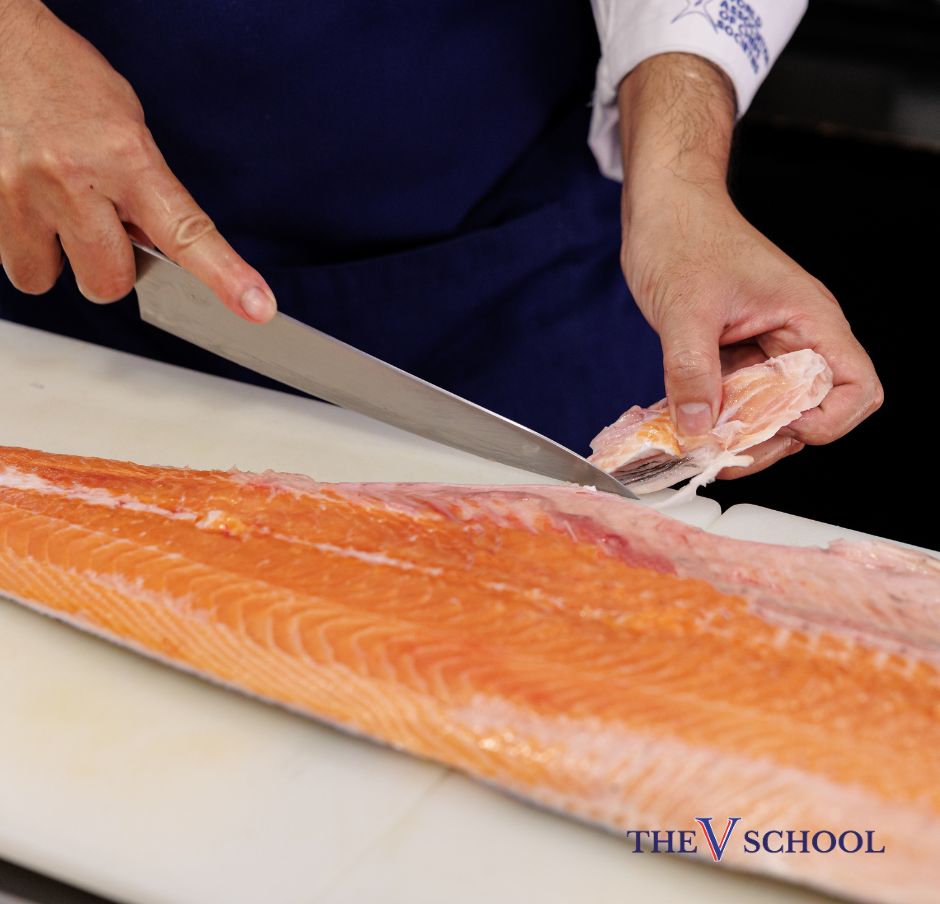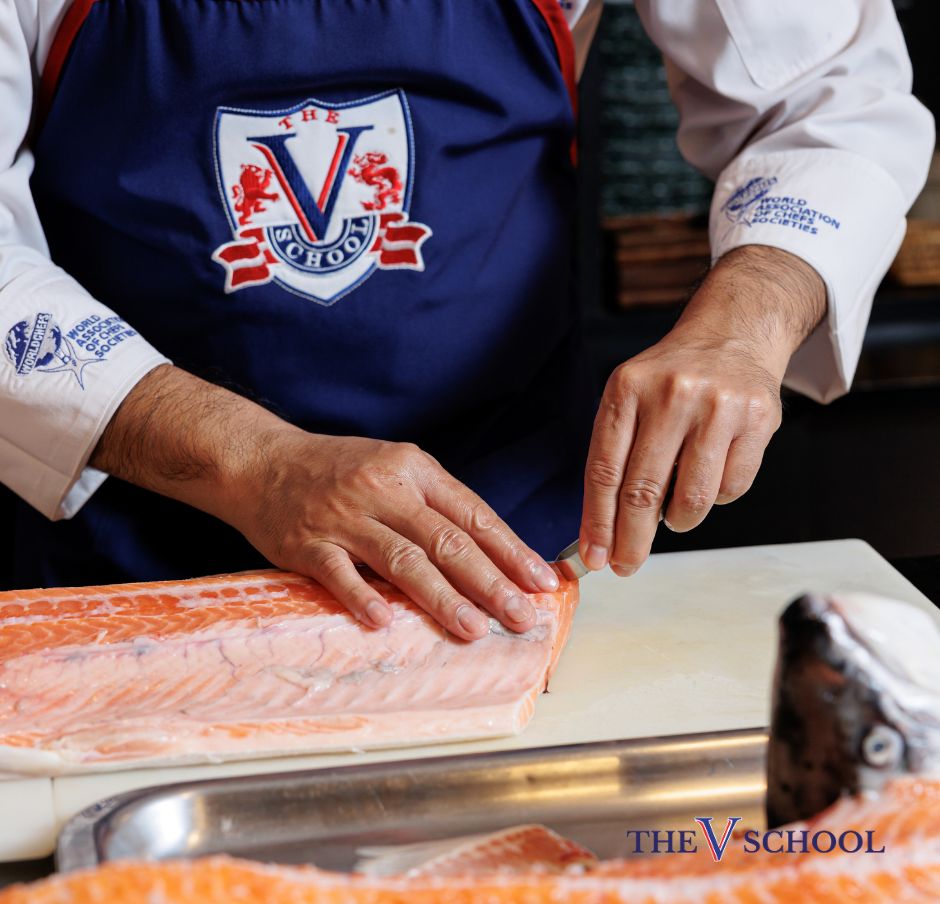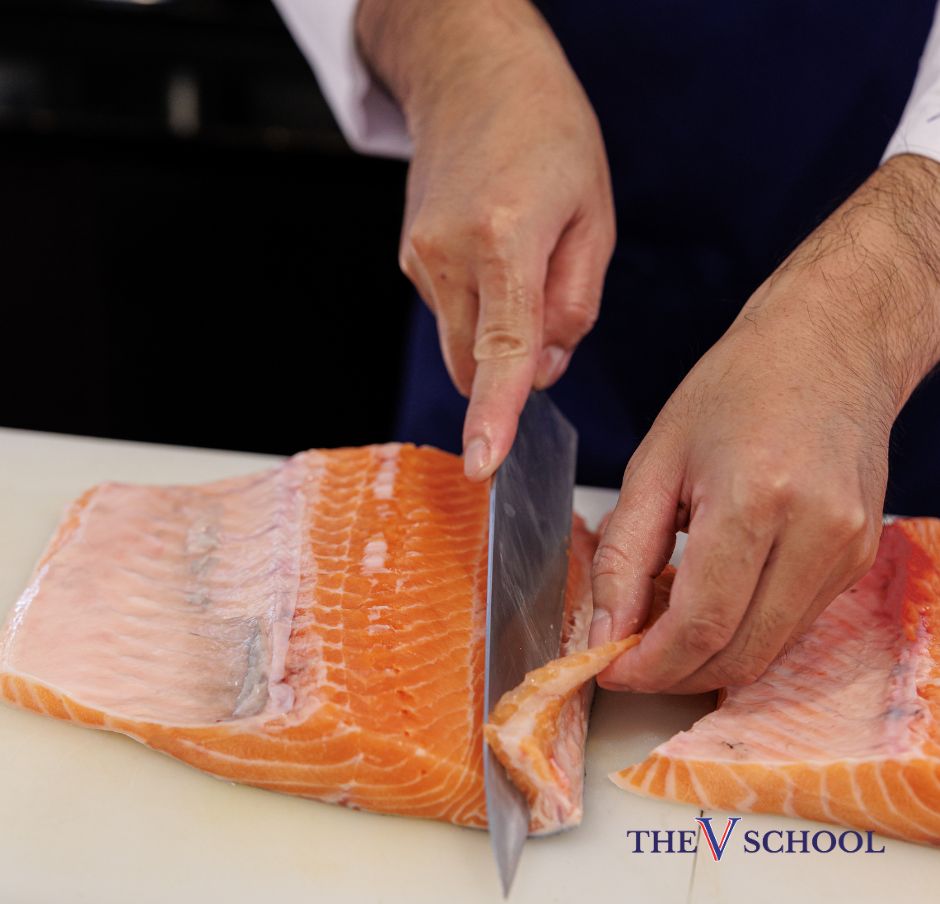 2) Teach how to make a menu from fresh whole salmon, with the following menus: Fish head boiled in Japanese soy sauce
Cutting Fish for Nigiri Sushi
Cutting fish for sashimi
Salmon Steak Set includes steak, stir-fried vegetables, sauce, and garlic fried rice.
Shime Salmon Toro (pickled salmon belly)
Salmon Toro Ojiya (salmon belly porridge)
Salmon Oboro (sweet salmon) is the use of salmon meat scraps for cooking, leaving no scraps left. Can be used to make Futomaki.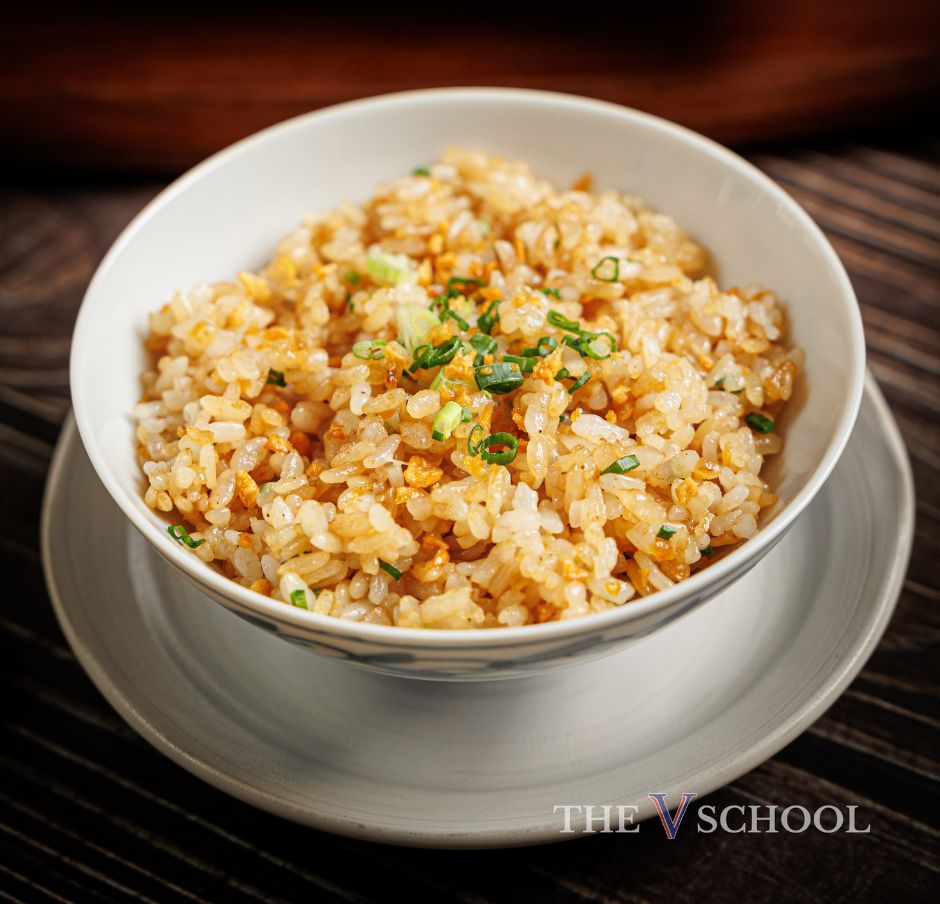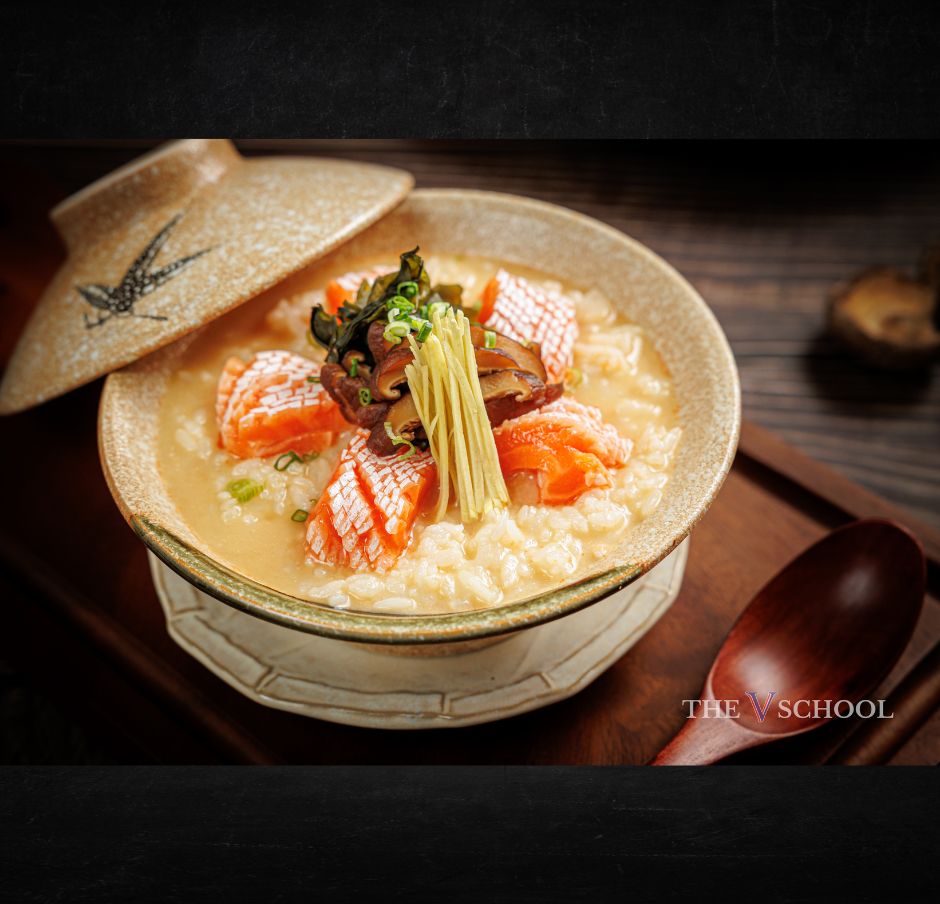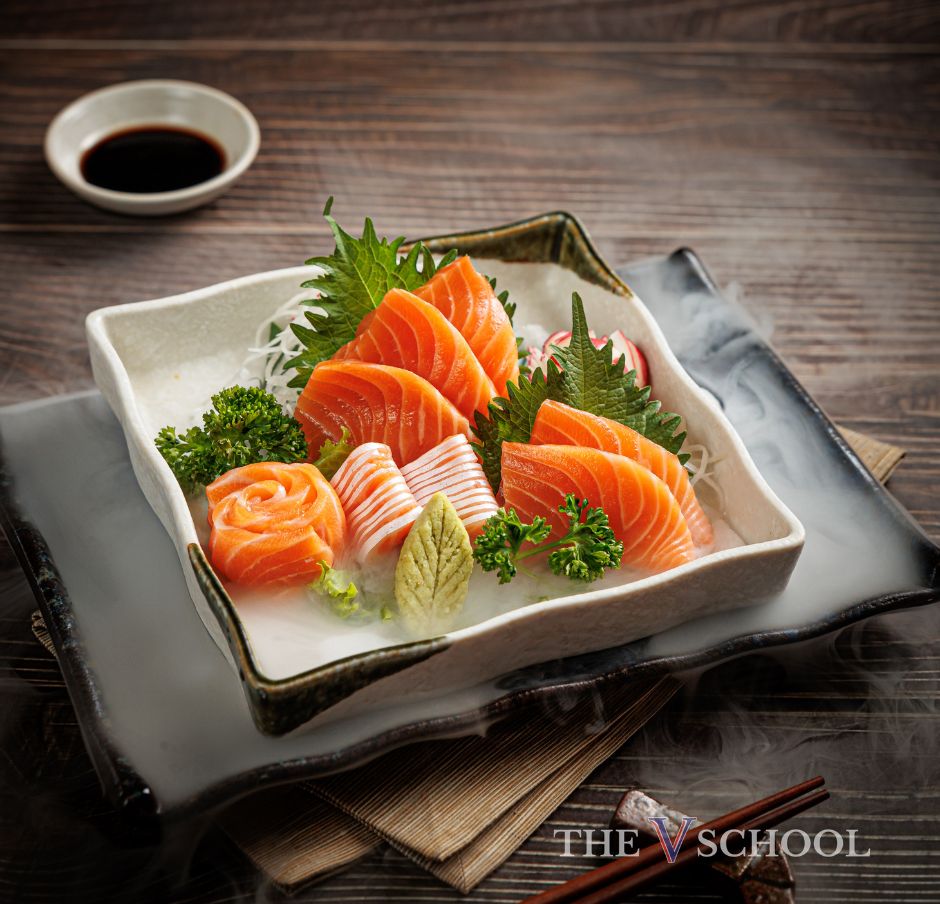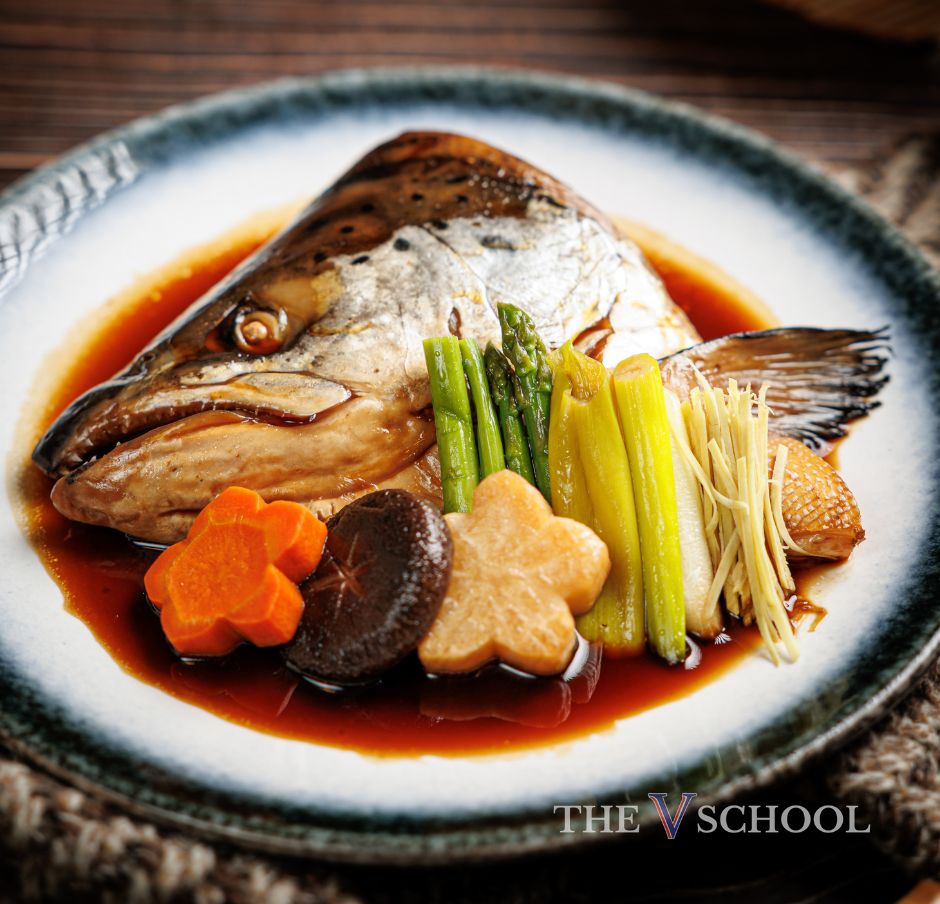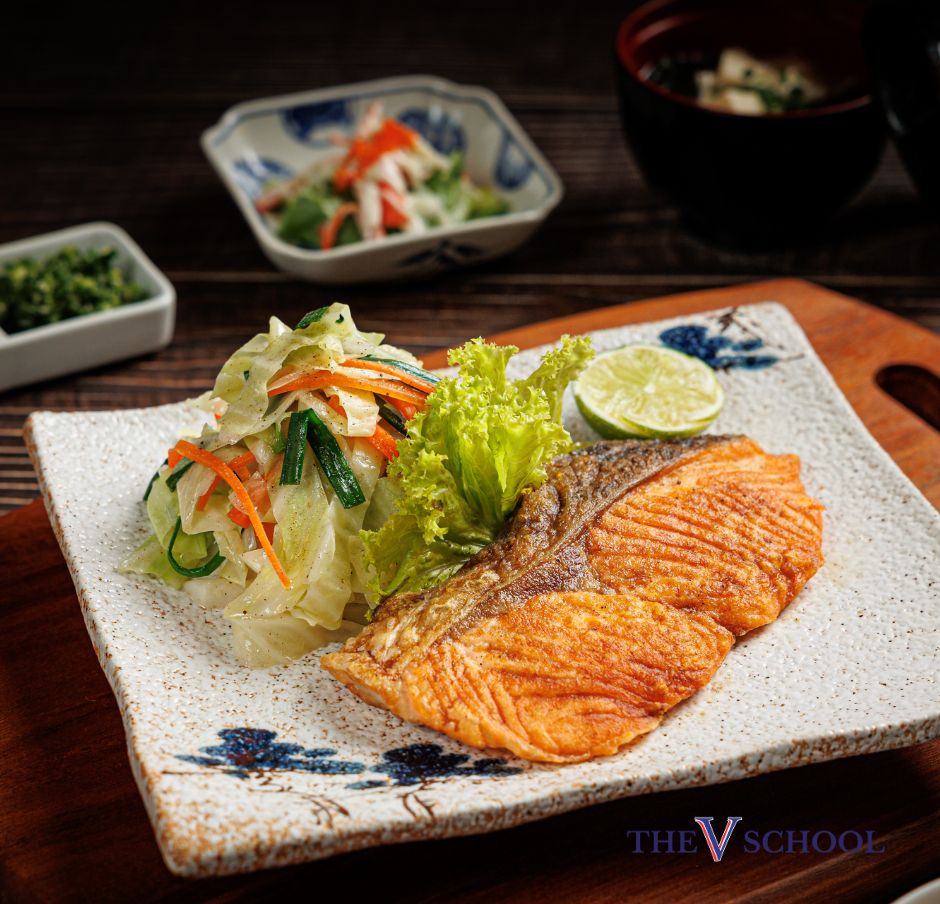 Course Duration
Course 9 hours, 1 and a half days.
First day: half day. The school will inform you of the class schedule again.
Second day: from 9:00 a.m. – 4:00 p.m.
Registration fee
From normal 23,000 baht, promotion = net 19,990 baht
This price includes…
Cost of raw materials and equipment
Study books
Certificate (issued by The V School)
Mobile Application for reviewing studies in the form of images and videos.
Apron and hat worth 250 baht (only for new students)
Condition
The minimum to open a course is 3 students or more, with a maximum of not more than 10 people per course. In the case that the number of students does not reach The institute will call to inform you at least 3-5 days before the course postponement. and will be postponed to the next round
In case you want to cancel The institute reserves the right. No refunds under any circumstances. But customers can change to other courses, both live courses at the institute and online courses. at the same value If the value is greater, pay the remaining difference.
In the case that the value of the purchased course is less than 10,000 baht, there will be an additional apron and hat cost of 250 baht per set. But if the course purchased is higher than 10,000 baht, there will be 1 set of apron and hat free (only for new students). Students must bring Aprons and apron hats must be brought with you at all times until graduation.
Note: In the case that the customer wishes to postpone the class date. Please notify the school at least 3 days in advance. If it is later than that, there will be a fine of 2,000 baht / person (except for the Lobster and Salmon courses, notify 1 week in advance or a fine of 4,000 baht / person) or if Didn't come to report. As reserved, the school reserves the right to return the deposit.
If the registered course is postponed suddenly more than 3 times without notifying the school in advance. We reserve the right to not allow students to attend classes and reserve the right not to issue a certificate to that registrant.