Kay Sorn Lum Jiak
It is known that Kanom Kesorn Lam Chiak is a unique local dessert of Ang Thong Province which is made from glutinous rice flour mixed with coconut milk
Sift through a sieve into a hot pan. It is a thin sheet rolled up with grated coconut stuffing, stirred with sugar.
must be eaten while hot The texture of the dough is soft, the taste is sweet, mellow, and fragrant with pandan leaves.
Nowadays, it is popular to add natural color to the flour before sifting. makes the dessert come out more colorful and appetizing
And also has a crystallization application to help keep it longer.
which in this course You will learn how to do both methods, including techniques for making fillings, sifting the dough, and rolling the dough at the same time.
Layer sweet cake – Kanom Chan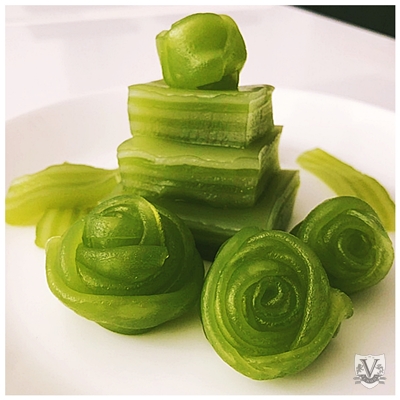 It is one of the ancient Thai desserts used in auspicious ceremonies. It is believed that 9 levels of drops must be obtained for good fortune.
which at present Has created desserts in various forms. both the natural color-changing drops make a rose
Or use ready-made flower prints to drop in layers, etc., making the desserts come out in a variety of contemporary looks.
which has different techniques in each step Until it comes out as a delicious, soft dessert and as souvenirs, gifts on special occasions that are of great value to recipients
Sticky rice with coconut milk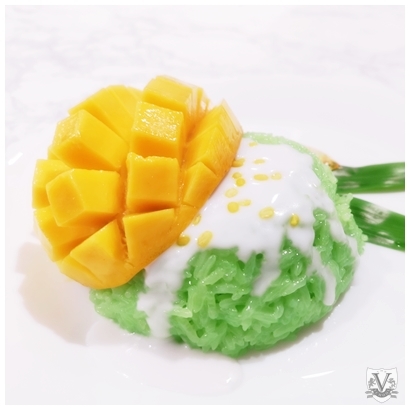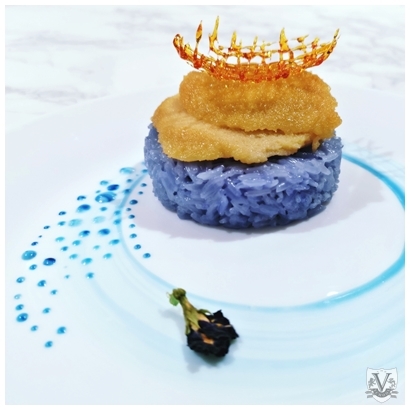 (A popular Thai dessert especially in summer which are made from glutinous rice)
Moon Sticky Rice It is a popular Thai dessert. And will be especially popular in the summer. made from glutinous rice
such as glutinous rice Moon with coconut milk, salt and white sugar
Then eat with ripe mangoes. The most popular ones are Mango Aok Rong and Mango Nam Dok Mai. May be poured with coconut milk and sprinkled with some nuts, depending on your preference.
Another popular topping is shrimp topping, which is crunchy, sweet and salty, perfect when eaten with sticky rice. Or the real sweet people would like to eat with soft and fragrant custard.
Course Duration
course 9 hour , 1.5 days from 9:00 AM to 4:00 PM (with lunch break)
Registration fee
From normal price 15,000 baht, promotion = net 14,000 baht
This price includes…
Cost of raw materials and equipment
Textbook
Certificate (issued by The V School)
Mobile Application for studying in the form of images and videos
Apron and hat worth 250 baht (only for new students)
Condition
Minimum to open a course of 3 people or more, up to a maximum of 10 people per course in case the number of students is not reached. The institution will call not less than 3-5 days before the postponement of the course. and will be postponed to the next round
If you want to cancel The institution reserves the right There are no refunds under any circumstances. But customers can change to other courses, both live courses at the institute and online courses. at the same value If the value is greater, pay the remaining difference.
In the event that the value of the course purchased is less than 10,000 baht, there will be an additional 250 baht per set of apron and hat, but if the course purchase is more than 10,000 baht, 1 set of apron and hat will be free (only for new students). Always bring an apron and apron until you graduate.
Note: In case the customer wants to postpone the school date Please notify the school at least 3 days in advance. If late, there will be a fine of 2,000 baht / person (except for the Lobster and Salmon course, notify 1 week in advance or a fine of 4,000 baht / person). did not report As booked, the school reserves the right to return the deposit.
If the registered course is suddenly postponed more than 3 times without notifying the school in advance reserves the right not to attend and reserves the right not to issue a certificate to that registrant.