Thai Snack #1
Contemporary Thai Cuisine in order to conserve Ancient Thai Recipes Which is hard to find, 1 course consists of 5 recipes as follows
Thai Appetizer #1 – The course objective is to conserve the traditional Thai recipes which are rarely to find nowadays, consist of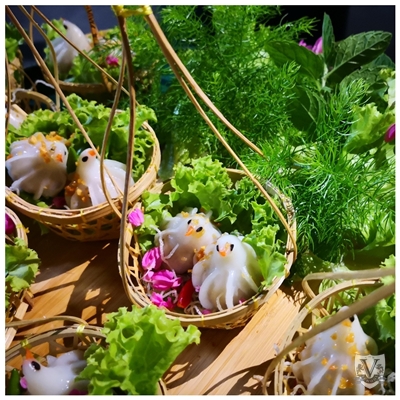 1. Thai dumpling or Khanom Jeeb Thai (A traditional Thai appetizer)
Ancient Thai snacks that are quite difficult to find people to sell nowadays. Therefore, it is not surprising that many people may have never seen this kind of snack before.
but certify that it has been made Samrat set the table as a snack for the guests in a beautiful and unusual way. Even more foreigners I believe that it will be quite amazing.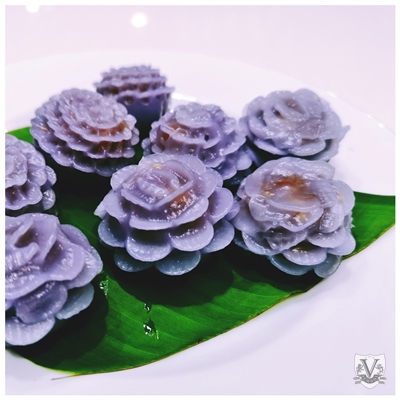 2. Chormuang or Steamed Thai Dumplings with Crab Meat & Chicken (A another traditional Thai appetizer since King Rama II)
Another ancient Thai snack that is hard to find as well. Classified as a snack for Thai people since ancient times. It has existed since the reign of King Rama II.
It is a dessert that requires refinement in pleating the dough. And the flour must have good ingredients. So it will come out soft and appetizing. The pastry filling is another important part that will make the dessert come out with a mellow taste.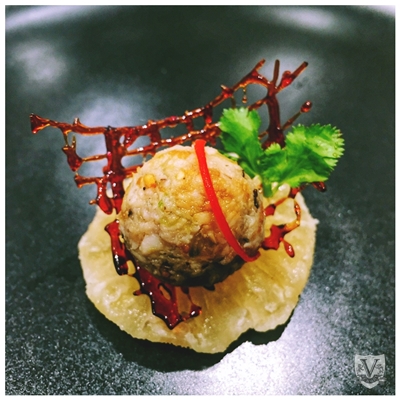 3. Ma-Hor or Fresh pineapple morsel topped with chef recipe (A traditional Thai appetizer commonly served with sour fruits and popular in merit festival of local people)
traditional Thai snacks Which was originally a side dish to eat with sour fruits such as pineapples, popular in merit festivals and as food in various ceremonies according to the beliefs of each locality especially the community Thai people of Mon descent
can now be adapted Creative in contemporary style It is one of the arts in cooking.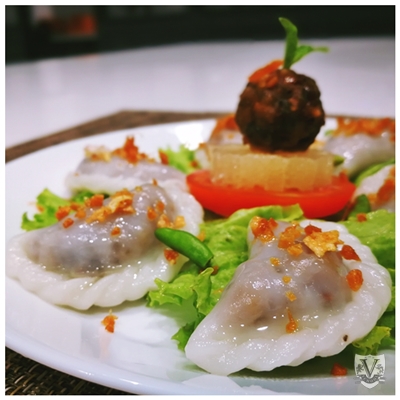 4. Pan Klib Neung or Flour Dumplings Stuffed with Flesh Filling
It is another type of Thai snack that has been around since ancient times as well. The shape is similar to curry puffs, but the size is smaller, the size is bite-sized, steamed with pork or fish fillings, mellow flavor.
With the circumcision, it is a work that must be elaborately sculpted to have a beautiful size. Therefore, it can be served as a luxurious Thai snack as well.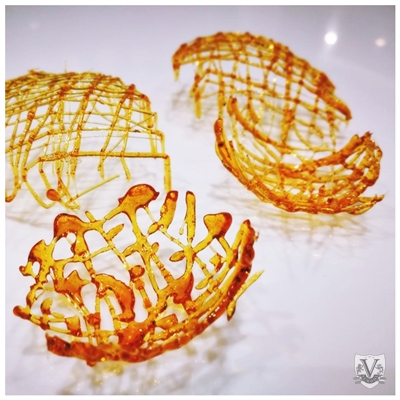 5. !!special!! Caramel Decoration
decorative caramel sugar that has a way of doing it that is not complicated It only requires technique and expertise to do it. This will help normal Thai snacks. Looks modern, adds value to food with art itself.
Course Duration
Course 6 hours , 1 full day from 9.00-16.00 (with lunch break)
Place of study : 238 Ladprao Soi 1 Intersection 14, Chomphon Subdistrict, Chatuchak District, Bangkok 10900 (Soi next to Union Mall)
Registration fee
From normal price 10,000 baht, promotion = net 8,500 baht
This price includes…
Cost of raw materials and equipment
Textbook
Certificate (issued by The V School)
Mobile Application for studying in the form of images and videos
*This price does not include Apron and hat worth 250 baht
Condition
Minimum to open a course of 3 people or more, up to a maximum of 10 people per course in case the number of students is not reached. The institution will call not less than 3-5 days before the postponement of the course. and will be postponed to the next round
If you want to cancel The institution reserves the right There are no refunds under any circumstances. But customers can change to other courses, both live courses at the institute and online courses. at the same value If the value is greater, pay the remaining difference.
In the event that the value of the course purchased is less than 10,000 baht, there will be an additional 250 baht per set of apron and hat, but if the course purchase is more than 10,000 baht, 1 set of apron and hat will be free (only for new students). Always bring an apron and apron until you graduate.
Note: In case the customer wants to postpone the school date Please notify the school at least 3 days in advance. If late, there will be a fine of 2,000 baht / person (except for the Lobster and Salmon course, notify 1 week in advance or a fine of 4,000 baht / person). did not report As booked, the school reserves the right to return the deposit.
If the registered course is suddenly postponed more than 3 times without notifying the school in advance reserves the right not to attend and reserves the right not to issue a certificate to that registrant.